How to Build a Capsule Wardrobe: 5 Tips for Minimalist Fashion
Can't keep up with the latest fashion trends? And feeling like you have nothing to wear? You're not alone! It's time to simplify your wardrobe and save money with a capsule wardrobe. Learn how to create the perfect minimalist wardrobe that works for you.
A capsule wardrobe is a collection of timeless, versatile pieces that can be easily coordinated to create a multitude of stylish looks. If you're looking to add some minimalism and chicness to your style, investing in capsule pieces could be the perfect solution.
Benefits of a Capsule Wardrobe
Many people are turning to minimalistic fashion from Boutiques in Omaha as it gives them the freedom to concentrate on more important things in life, rather than worrying about following current fashion trends or having too many clothes cluttering their closets. A capsule wardrobe consists of quality, classic pieces that will never go out of style and look stylishly polished while being comfortable.
The core benefits of having a capsule wardrobe are:
Easy (& stress-free!) daily outfit selection – you don't have to think or search too much through piles of clothing
Saves money – fewer items needed with higher quality ensures longevity for the items purchased
Sustainability – buying fewer items means less waste. Plus, ethical fashion can become quite affordable due to being able to invest in quality pieces
More closet space – you don't need nearly as much space as you would with so many items
Focused shopping trips – know exactly what you need and don't fall into the trap of making impulse buys
Tips for Building a Capsule Wardrobe
Having a few of the right basics can help you create stylish, timeless looks all year round. These tips will help you build a wardrobe that reflects your personal style while maximizing your fashion options.
1. Choose Quality Pieces
Investing in a few key statement pieces that will last for years rather than stocking up on cheaper items that may need replacing frequently is the foundation of building a capsule wardrobe. Find well-made pieces in quality materials such as wool, denim, and cotton that fit well and flatter your figure.
2. Choose Versatile Garments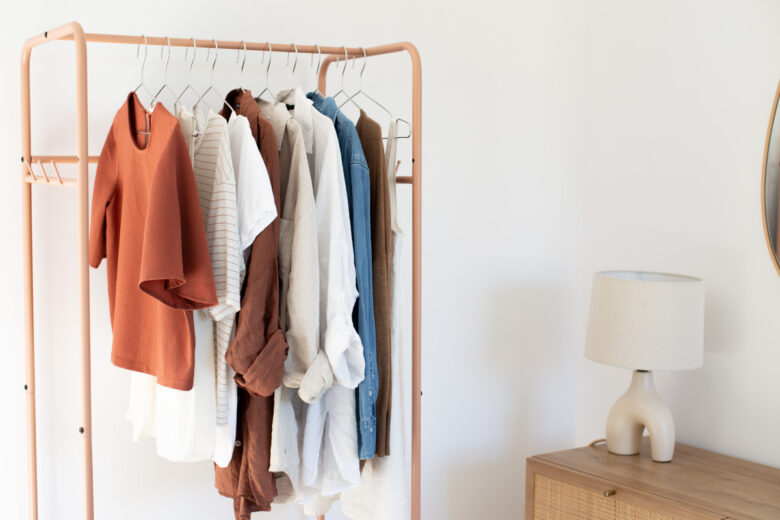 Identify garments with some stretch or that can be dressed up or down for multiple occasions. Look for types of clothing like blazers and cardigans which can be layered over different tops; pants with pockets; ankle boots; maxi dresses; etc.
3. Accessories Matter
Use accessories to change up the look of an outfit like scarves and hats to add a pop of color to otherwise neutral tones. Avoid trendy pieces as they come and go quickly, opt instead for classic accessories with modern twists such as aviator sunglasses instead of novelty sunglasses framed by rhinestones or large stars!
4. Buy to Mix-And-Match
When shopping for clothes, consider how each item can be paired with other items you already own or intend to purchase in order to build new outfits without needing additional items later on down the line when you're low on a budget (which happens more 6ons regularly than most people might think.) Thinking more along these lines will come naturally once you've got the hang of making mix-and-match outfits out of what's already in your closet!
5. Store Items Carefully
Take time to store clothing items properly so they don't get damaged during storage, hung up if possible as this will prevent them from getting wrinkled over time – something which no one wants when going out! Finally, keep everything dust free by regularly dusting shelves where clothing items are stored – this is especially important if wardrobes are kept in humid areas which tend not to attract dust particles more easily!
How to Choose Quality Pieces
Start by purchasing classic staples such as neutral colors and timeless design elements like trench coats, blazers, button-ups, blouses, jeans, and trousers. As you complete your wardrobe basics, add interest with elegant jewelry or bold accessories.
Investing in key items that are slightly more expensive but will last longer will save time and money in the long run. Quality materials are generally durable and don't require frequent replacing or repairs; however, splurging on trendy pieces can work too—just make sure these items hold up structurally over time! Look for items made with natural fabrics like wool, cotton, or silk. Natural materials tend to age better than their synthetic counterparts, so they'll look great year after year. Also, think about construction; seams should be straight, zippers strong and fabric colors consistent throughout the entire item of clothing.
As you choose quality pieces for your capsule wardrobe focus on designs that are versatile enough to mix and match with different items in your closet – wardrobe basics that can take you through any trend cycle without going out of style. A simple but carefully considered color palette can be well worth the effort when it comes to developing an airtight fashion philosophy–try not to overdo it when creating a minimalistic look!
How to Create Outfits from a Capsule Wardrobe
Here are some tips for how to get maximum value from your wardrobe essentials:
Try pencil skirts and tailored trousers with cardigans or button-down blouses for an effortlessly chic look.
Layer lightweight tops with blazers and jeans for a comfy yet pulled-together style.
Choose items in similar color families so they will mix and match easily.
Experiment with different ways of wearing each piece to create a variety of outfits.
Invest in quality shoes — they will go a long way when mixing up your ensembles!
Don't forget about the details — small touches like sunglasses, handbags or hats can help tie everything together flawlessly.
Conclusion
Building a capsule wardrobe is an excellent way to create a minimalist fashion style that you will love. By following the tips we have discussed, such as choosing timeless pieces and sticking to neutral colors, you can easily put together an elegant wardrobe with fewer items. With the right mix of essential garments and versatile accessories, your capsule wardrobe can look chic and modern while still being practical for everyday life. So go ahead and start building your own curated closet today!