4 Décor Tips and Ideas to Transform Your Ranch Home
Ranch home has a different meaning for many people. It's often associated with owning cattle but it's a bit different. It's an architectural style, and is by no means needs to be associated with your lifestyle. Of course, it doesn't stop you from wearing a cowboy hat and boots, but you're not obligated to do it. In the end, it is more about owning a one-storied house built on an open plan with a low-pitched roof. If you won one of these you're already aware of all of its advantages and flaws.
Like any other house, it is great and you'll enjoy it up to a point. There's always a time when a change is needed. All of us know this, and in the majority of cases, renovations are imminent. The bigger issue is what to change to make your home look new but retain its warmth? When it comes to the word transform it is understood that not much will remain the same, but you can always keep a few things untouched to make your home feel your own even after undergoing renovations.
In this article, we're going to be discussing which is the best way to take your ranch home when the time is due for a change. With our four décor tips and ideas to transform your ranch home, you are almost guaranteed to hit the right spot. The best part is that you can start changing it from both the outside and the inside. Most people tie the term transformation only to exterior changes. While this is where you can start, you could also take your home to a next level with a few interior changes. In this text, we'll try to give you ideas for both. Let's get started.
Update The Furniture
Yes, ranch house can be changed from within too. In fact, this could be the ideal place where to start your redecoration. There are many things you can do, and the ideas are practically unlimited. There are many bedrooms, bathrooms, kitchens, or living room ideas to be applied in this domain. But, if you ask us for an opinion, we would start with a living room. And if you want your home to have that warm ranch feeling we all experienced through various western movies, we have a great idea.
You should equip your living room with a recliner. Have you ever thought about this? If you did, that's great. If you haven't now's the time. Nothing can update a ranch house like a western-style leather recliner and some of the best you can find here. There's no more need to think about it. Just go out and get yourself one of these. It's a decision you will never regret. Trust us!
Do Some Landscaping
The best part about a ranch home is that you can take the work inside and you can also take it outside to play. Doing some landscaping is a great way to make everything about your home different. The best way to do this is to add some height to the front and back ends of your home. Ranch homes are usually one-story houses which can make it easy to overshadow them. You can use some plants in pots, or you can go all out and plant trees. Of course, if you buy smaller ones, it will take time for them to grow, but it will be worth your time and effort.
You'll add some of the mystique to the mix, and also during the warm days, you'll be protected by the branches. A little landscaping never hurt anyone and our home isn't going to be any different. You could even shoot for one of the biggest trees you can afford and have it grow branches over your roof. This will make a great playing area for your kids once they're off age and it will be very movie-like.
Redecorate The Walls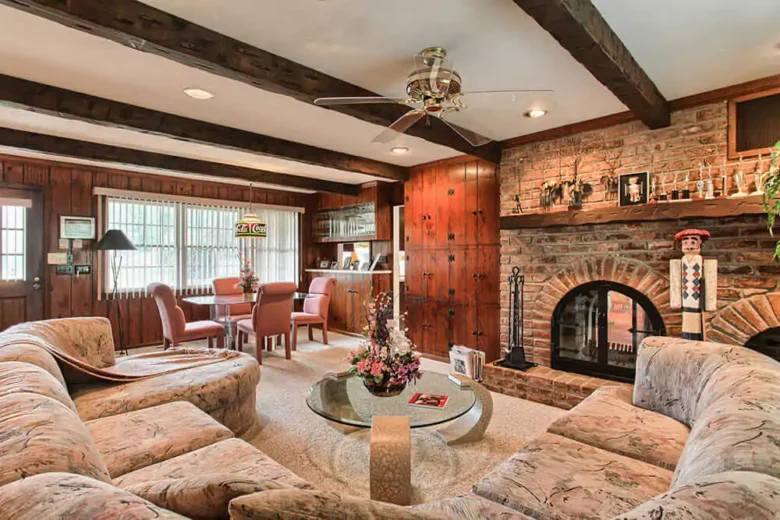 If you want to go hard at it, the best route t take is to attack the walls. They can be found in every room, and they're the quickest to deteriorate since the last renovation. But, you don't always have to go the standard route and paint them or do similar and standard things. No, you can bring your game up a notch, and do your walls a different favor. If you're even remotely following the decor trends of today, you probably heard about the removable wallpapers.
They're quite trendy and can make a huge difference in how your home appears to both yourself and your guests. The best part is that we're talking about removable items. Even if you have them around for while but start to dislike them – just remove the wallpaper. It's almost like the desktop wallpaper on your computer. We're talking both about the Avengers wallpaper for your kid's room, and also living room wallpapers that appear as if they were made by an interior decorator, but not the kind you'll meet in The Sopranos.
Paint The Exterior
Could it be simpler than this? Hardly. But, could something make more of a difference to your home with it being so simple – no! This is a route that will take you down a great journey. There's just so much that you can do, that it's hard to decide where to start. There are colors you can choose, decorations, and various combinations of materials, and in the end, even a simple paint job will do.
You could combine the exterior work with the landscaping one we mentioned in one of the paragraphs above. You could choose the color of the plants that will bode well with the color you choose for the exterior walls. Also, you could pair them with the wallpapers you'll pick for the inside. Redecorating your ranch home is an all-around work, which can start inside and end outside, or it could go the other way around. Whatever you choose one thing is sure – you'll never get out of ideas. The only important thing is that you start in time and don't stop until you're done.